Reduce Risk Using Your Data
Improve your risk assessments and prepare for the unexpected by integrating industry data and expertise into your Process Safety Management Programs.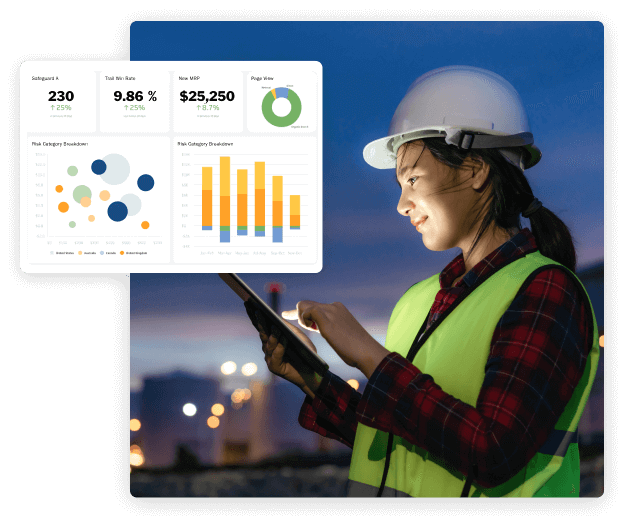 Access The World's Largest Risk Learnings Database
Over 4600 process units and 51 million learnings aggregated from various industries over 7 years, including a unique dataset of 50 million+ risk identifiers.
262,000
Pieces of Equipment
500,000
Hazardous Scenarios
21,000
Contributing Experts
At Risk Alive®, our vision extends beyond individual organizations and industries. We aim to transform the Process Safety world by harnessing the power of global industry data and creating innovative tools and solutions for our customers.
Through the aggregation and utilization of industry data, we provide comprehensive insights into your PHA data and processes, overcoming the limitations of isolated information and infrequent assessments. We understand that risk is an ever-evolving force, demanding adaptable approaches to risk assessment.
Transforming safety practices isn't disruptive; it's transformational and Risk Alive® leads the way by advocating data-driven approaches that revolutionize how organizations perceive and manage risk. Our unwavering dedication to embracing data insights keeps us on the cutting edge of Process Safety Management (PSM), offering forward-thinking and effective solutions to our customers.
Join us on this transformative journey as we unlock the full potential of data and reshape the future of process safety!
OpenPHA®
Evergreen your PHA program through OpenPHA® and have consistent, up-to-date information at all times

With this dynamic platform you'll be able to:
Easily standardize your PHA processes across your facilities
Update your PHA with closed recommendations
Manage and share your PHA data with unlimited access across your team or site
Integrate with the Risk Alive® Analytics platform to extract key PHA insights from your data
Risk Alive® Analytics
Extract key insights and clear, actionable items from your PHA data with Risk Alive® Analytics

From your PHA data, easily learn:
What your critical top 3 threats are
What recommendations to complete to reduce risk and optimize your budget
How your safeguards rank across your entire site based on criticality
Utilize Industry Data to Improve Your Next PHA Session with PHA Plan & Assist
Using industry-wide data for your process unit, you can…